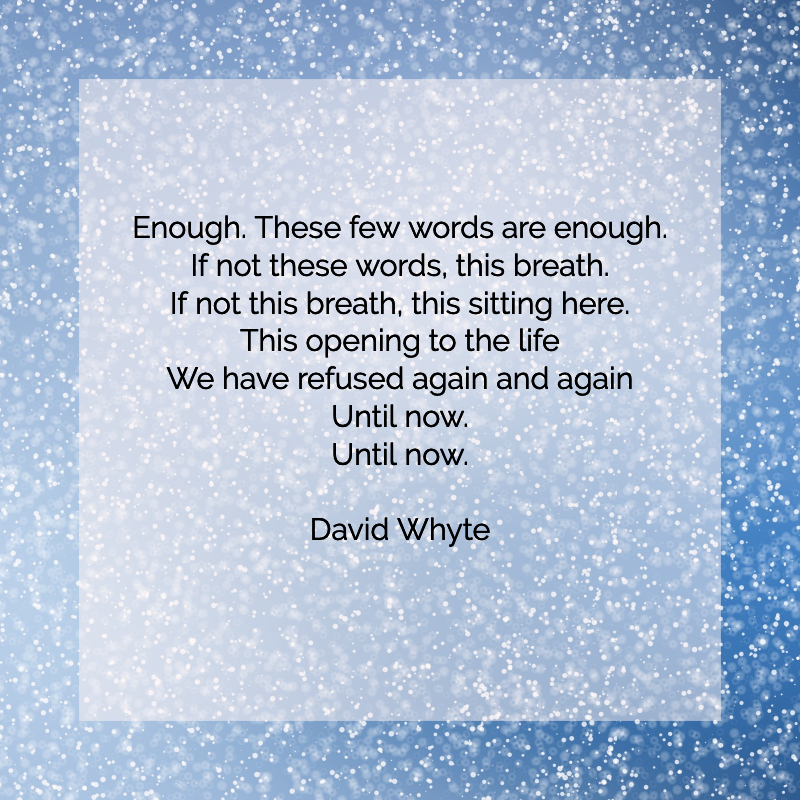 This is a poem I have shared countless times over the years in MBSR classes, MSC classes, and beginning meditation. Just like with sacred texts, each reading of a poem can reveal another layer of wisdom to the listener. Hearing this again on silent retreat in the context of growing in greater self-compassion, I heard ENOUGH – enough is enough! But then self-doubt starts to make me wonder – is it really enough?

What would it mean if enough were enough, if these words were enough, this breath, this sitting? Am I even really enough? Perhaps… I even have enough… know enough…have worked enough…done enough…given enough….and on and on. Nothing left to do, to get, to become. Finally….opening to the life that has been refused, neglected, pushed aside, avoided, or delayed. This sitting HERE, BEING, right HERE, NOW is enough. Whew! A huge sigh of relief overcomes my entire body and I start to relax, simply allowing myself to rest in being, ENOUGH.

Pause, and try it. Simply take a deep breath and as you exhale, let go of doing, striving, and grasping for just this moment. Allow this moment of being to be just enough. Repeat as many times as needed. What did you notice? Don't worry if you happened to notice the same old patterns – perhaps a critical mind, anxiety or other difficult emotions. Instead, offer yourself encourage and praise for trying this activity out.

As with many other insights, they disappear far faster than they appear, and yet they also leave an imprint. This sense of enough has left a deep sense of knowing I am home in the breath. This path is the way home, it is home, and it is truly ENOUGH. Even as I write this post, I have a longing to hold onto the memory as if I already know I will forget it tomorrow…tonight…. or perhaps by dinner when I want more than I need. How I long to remember this throughout 2020, as I set forth "doing things differently". I hope that I will recall this insight and gently and nonjudgmentally remind myself, ENOUGH!

I invite you to mediate on this poem and notice, without judgment, what arises. Feel free to journal or create expressive art during this practice.

Enough. These few words are enough.
If not these words, this breath.
If not this breath, this sitting here.
This opening to the life
We have refused again and again
Until now.
Until now.

A New Year's Wish:

May you have the courage, strength, tools, support, and anything else you need to open to the life you have refused again and again. Of course, all in your own time, at your own pace, and with a loving, compassionate heart.

Trauma-Informed Note:

Please know that if you or someone you love has suffered trauma or attachment wounds it is quite common to have the opposite feeling that there is never enough, due to very early, unmet needs. Please know that this is also a feeling and a belief – the "never enough feeling"- and when that wounded part is healed and your needs are met, you can experience a moment of ENOUGH.

Happy New Year!

With love and gratitude,

Patty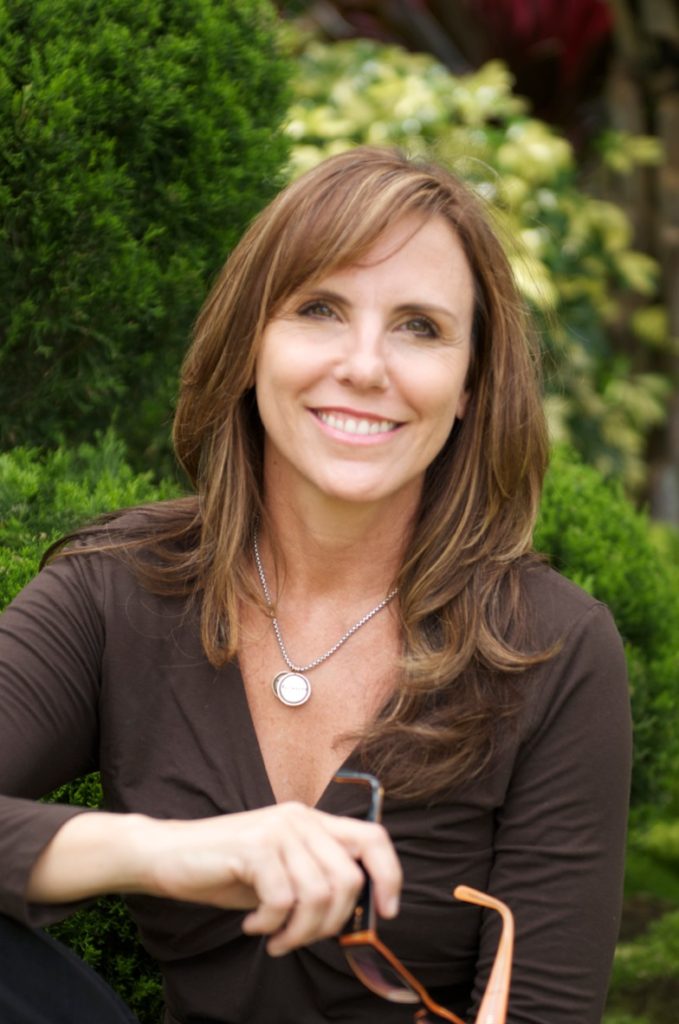 Patty Thomas Shutt, founder of Sacred Treehouse, is a licensed psychologist and co-owner of Therapeutic Oasis of the Palm Beaches. Dr. Shutt is passionate about helping others discover the benefits of mindfulness and meditation. She offers Beginner Meditation & Advanced Meditation classes at Sacred Treehouse, in addition to Mindfulness Based Stress Reduction, Mindful Self-Compassion and various book studies throughout the year.