All of us want peace of mind, but many of us search outside of ourselves. We hope that external circumstances, conditions or even other people will bring us that desired feeling of peace. Instead, I invite you to consider the following passage: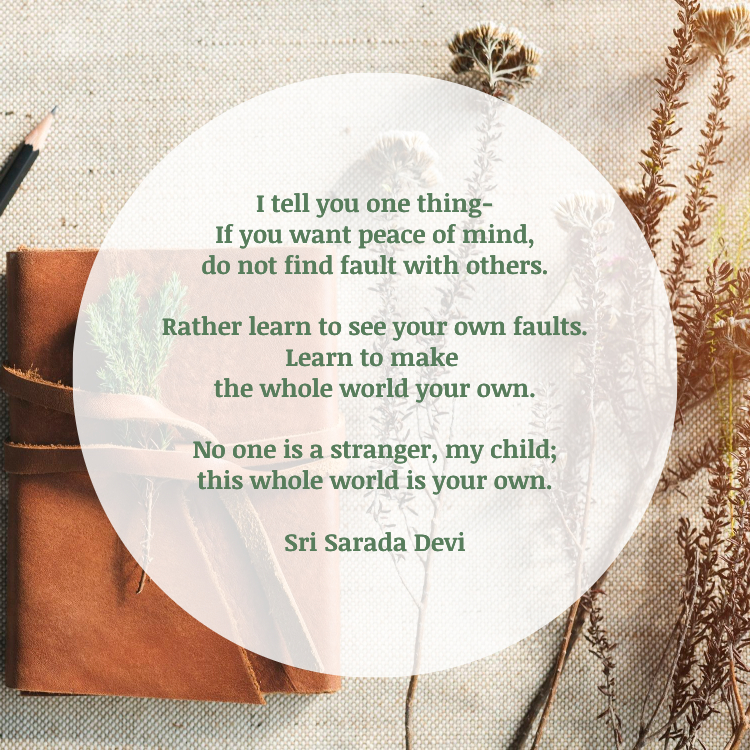 This passage gently points us inwards. I find it reassuring that we do not need to rely on another person's behavior or wait for ideal conditions to attain peace of mind. By directing our attention inwards and practicing mindfulness, we develop self- awareness. This self-awareness helps us discern important truths. When we look inwards, we are able to see more clearly the inner workings of our mind. Through this process of self-discovery, we may also notice how we contribute to our own pain and suffering.

One way to facilitate this inner journey is by participating in passage meditation. This specific form of meditation can help quiet the mind and build self-awareness. The practice is straightforward:

(1) Pick an inspirational passage and commit it to memory. Make sure your passage is positive and uplifting.

(2) Find a comfortable position to practice the meditation. You may sit on a cushion, chair or the floor.

(3) Recite the passage – focusing on each word. When the mind wanders (and it will!) gently bring your focus back to the passage.

(4) Repeat the passage for the entirety of the meditation. Try practicing for 10 minutes each day.

Passage meditation has helped me to pause and notice the habit of finding fault with others. Without judgment, I bring a shared awareness of humanity. There is no you and I, there is just we… and we are all the same.

This week, try incorporating passage meditation into your daily life. Take notice of what annoys you or times where you are finding fault with others. Pause and note what it is you are believing or saying in your mind. How do your thoughts influence your state of mind? Be honest and gentle – this human experience is fraught with challenges.
May you look at yourself through eyes of love and compassion.

Patty Thomas Shutt, founder of Sacred Treehouse, is a licensed psychologist and co-owner of Therapeutic Oasis of the Palm Beaches. Dr. Shutt is passionate about helping others discover the benefits of mindfulness and meditation. She offers Beginner Meditation & Advanced Meditation classes at Sacred Treehouse, in addition to Mindfulness Based Stress Reduction, Mindful Self-Compassion and various book studies throughout the year.