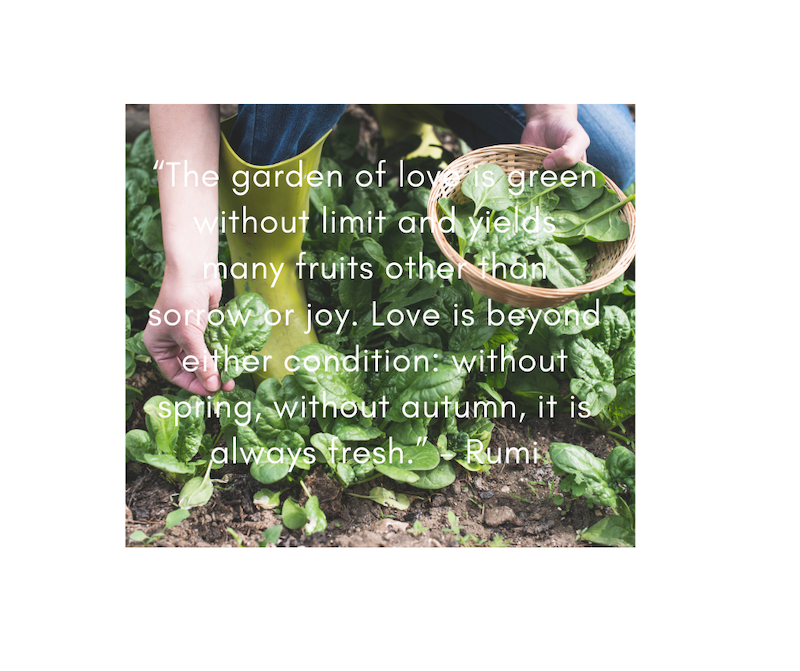 "The garden of love is green without limit and yields many fruits other than sorrow or joy. Love is beyond either condition: without spring, without autumn, it is always fresh."
– Rumi
Have you ever wanted to change your career or transform your life? In essence, this thought has planted a seed that can grow into change. As a garden grows, we flourish and change in life. We start as a small seed, and with proper care and nurturing, we grow. A plant grows with proper hydration, nutrition, and sunlight. A plant grows by the change of season. A plant grows with sunlight, oxygen and the soil of the earth.

Gardening has therapeutic benefits because it teaches us about life, healing, and control. Just as a seed flourishes and grows, we also evolve each day. A garden teaches us to learn to value and ground ourselves. Also just like a plant, we bloom and sprout. We also die and go back into the earth.  A garden teaches us to be present, to be mindful, and to let go and allow the cycle of birth and death to unfold again and again.  

We are not in complete control of life; a garden also is vulnerable to life. There are factors such as weather, bugs, and neglect that can affect growth. In life, we all have weathered the storm. We have had to deal with pain and conflict. When we learn to let go of control, we embrace peace; a flower learns to bloom. As each plant blooms, it is fragile with unexpected nature. It needs the nutrition and care to thrive. In each season, it can change. It might not have an abundant harvest. It might be a bounty of produce. 

I started my garden during a time of change in in my life, and it became a metaphor for a chapter of this life. As a dietitian, it also became a metaphor for my practice. It was symbolic of my passion. Nutrition is necessary for growth and development. With each season and with each year, we provide our body with the energy and needs to maintain body function. As an RD, I encourage my clients to embrace diversity and to learn to nurture themselves. I am passionate about my professional growth and each season that will manifest. 

We are each a unique flower – beautiful and growing each day. We need to breathe and be grounded. We need to be watered and fed. We need to be rooted in our needs and honor our season. We need to learn the skills to live in harmony with our surroundings. We need to learn to build strength against the elements that are not in our control. It is important to be mindful. 

My literal garden continues to grows each day and I planted a variety of vegetables, spices, and herbs to foster diversity. In turn I receive the sunshine and Vitamins with each harvested plant. I love to share my produce with colleagues, friends, and family, just as we share moments of laughter, sadness, and other experiences. The garden in my yard has become a metaphor for life and my practice. It provides me the time to reflect on growth and evolution. It reminds me every day the power of nutrition. It reminds me of the importance of my ability to educate clients on the importance of nurturing their bodies. most of all it brings me closer to what matters most and great joy in sharing the harvest.

Take time to harvest your life intention.  Take time to yield your abundance.  Take time to nurture.  Take time to be mindful of your own garden.

Lee Cotton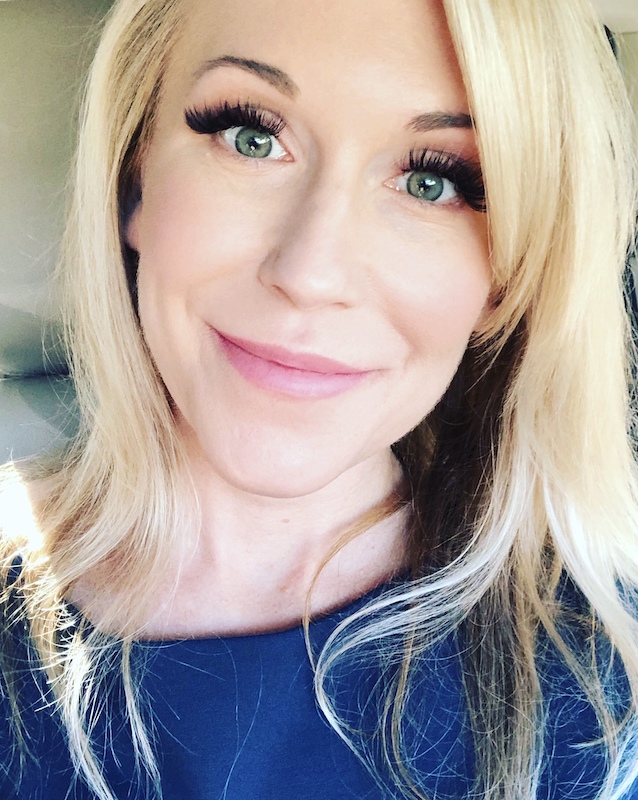 Lee Cotton is Registered Dietitian Nutritionist who has a "no diet approach" to eating and is a foodie at heart! She believes in a mind-body approach to wellness.
She helps clients develop an intentional vision for their health, by assessing current food struggles and creating an effective and reasonable plan that can truly be a part of their life long-term. Lee believes in a non-diet approach, centered on mindful eating where individuals learn to stop fighting with food and move toward a peaceful co-existence with it and with themselves. "My passion is educating clients on how to eat for their own overall health. 
Her approach to medical nutrition therapy is evidenced-based and considers the client's health and goals, providing the education and tools for a client to make lasting health changes.   Believing that there is not a one-way-fits-all nutritional plan, she takes time to listen to each client and understand their concerns and patterns. Lee is compassionate and empathetic, working hard to create a safe and supportive environment for her clients.