We hope you will join us for one of our classes or workshops. Please note: Registration closes 24 hours before the scheduled class start time. Please email info@SacredTreehouse.org or call us at (561) 303-1185 to inquire about late registrations.
2020 Offerings
What is MBSR?
Mindfulness Based Stress Reduction (MBSR) is a mindfulness educational program designed to teach individuals who are suffering from physical or emotional pain how to take better care of themselves and live a happier life. It is not a replacement for medical or psychological care, it is an adjunct to that care and in many cases can be preventative to individuals at risk for stress related or induced illnesses. You do not have to wait until you are sick or suffering to learn and benefit from a mindfulness practice!
Our 8-week course meets weekly for 2½ hours and includes a one-day retreat component. The course is designed to benefit a heterogeneous group of people with varying types and degrees of pain and stress. During the 8-weeks, you can expect to experience an active learning environment where you will study and experiment with four primary mindfulness practices: the Body Scan, Sitting Meditation, Mindful Movement, and Walking Meditation. In addition to the four core mindfulness practices, you will learn "informal" practices to be used during daily life that will further enhance the benefits from of this program. Incorporating mindfulness into everyday activities such as eating, chores, self-care and listening to others, the informal practice will strengthen your mind-body connection and develop an immediate awareness of stress and habitual reactions, including thoughts, emotions, and behaviors. This mindful awareness leads to greater freedom through gaining a sense of control through choices.
A vital component of the workshop is your commitment to daily practice, homework, and active participation within the group. The daily practice of the tools is what leads to positive outcomes, not simply learning about them.
---
Who Should Attend?
Everyone can benefit from these mindfulness skills. The MBSR program has been implemented at many hospitals and medical centers across the nation and there is tremendous amount of research studies demonstrating positive outcomes for:
• Reducing pain
• Improvement in mood disorders
• Reduction in anxiety
• Improvement in overall health and self care
• Improvement in relationships
The course is not appropriate for individuals who are suffering from current suicidal ideation, psychosis, Post Traumatic Stress Disorder (PTSD) with active symptoms, untreated depression or Bi-Polar Disorder
Registration Information
To participate in this program, individuals must attend an orientation session to learn more about the program and the commitment required. There is no cost for the orientation session, but registration is required due to limited seating availability. Please let us know if you have any physical limitations, as some sessions will be held upstairs.
Want To Know More?
• Take a look at the Bill Moyer's Special "Healing from Within" featuring Jon Kabat-Zinn and the MBSR Program at UMass: Healing From Within

• Read about an MBSR participant's experience on our Blog.
Program Requirements:
• Attend Free Orientation session
• Program participants must pay in full prior to first day of workshop
• Complete pre- and post- program assessments
• Sign a Release of Information for primary care or referring physician
• Commit to attending the full 8 weeks of classes and the 8-hour Mindfulness Retreat
DATE AND TIME:
October 26th from 10:00am to 12:00pm
November 2ND from 10:00 am to12:00pm
November 9th from 10:00 am to 12:00pm
November 16th from 10:00 am to 12:00pm
November 23rd from 10:00 am to 12:00pm
November 30th from 10:00 am to 12:00pm
December 7th from 10:00 am to 12:00pm
December 14th from 10:00 am to 12:00pm
COST:
$375.00
Note: If scholarship is needed please email drpatty@sacredtreehouse.com
---
Mindfulness and Happiness Workshop
Mindfulness allows us to see clearly. Clarity in life allows us to live authentically, in accordance to our values and highest purposes, and in doing so we reduce stress and become happier. Happiness is the joy we feel when we are moving toward our potential and is experienced more intensely when we feel that we are moving closer to our goals.

The workshop will include several simple exercises and will be presenting a path to happiness and talk about the attributes that if cultivated can produce more happiness.
Prerequisites:
Book: "A Better Life in a Better World: Can Mindfulness Save Us from Ourselves?" by Piero Falci – Once registered the participant will receive an email listing what chapters of the book should be read as a preparation for the workshop
Computer with Zoom capability (audio and video)
Chair or cushion for sitting meditation
Comfortable clothes
Notebook and pen
Dates & Times:
6 sessions of 1 hour each, on Fridays, from 1:30 to 2:30 PM
Session 1 – 10/23
Session 2 – 10/30
Session 3 – 11/6
Session 4 – 11/13
Session 5 – 11/20
11/27 – No session – Practice
Session 6 – 12/4 Fees:
$200 Benefactor
$175 Sustaining
$150 Scholarship
Scholarships are available for this program. To learn about the application process, please email info@sacredtreehouse.org for more information.
Thanks!
---
Quiet the Inner Critic
Building self-compassion is vital for emotional wellbeing, yet most people have not been modeled or taught how to treat themselves with kindness. This retreat style course will provide teaching on identifying and working with your inner critical voice, guided practices in cultivating a compassionate voice, and discovering the many pathways to self-compassion through both formal guided practices and informal daily practices.
Full Day Workshop on Saturday, October 10, 2020
9:45 am – 4:00 pm
$175 – Virtual Workshop
$140 – Scholarship Rate
Registration Closes October 9th
---
SAFE (Sensitive Approach for Everyone) YOGA
Yoga Teacher Training (Level 1)
SAFE YOGA is yoga for every body. Developed at Sacred Treehouse by Alyana Ramirez, E-RYT 200 and Anni Johnston, LMHC, BC-DMT, CEDS, CYT, SAFE Yoga is a direct response to the growing need to identify and develop yoga teachers that are sensitive to students' unique needs, some of which may not be immediately visible. SAFE YOGA trains yoga teachers to create an environment suitable for everyone – inclusive of all levels of practitioners, all body shapes and sizes, and people with a history of emotional trauma or eating disorders.
Level 1 Training Includes:
Welcoming diversity into the studio
Teaching from a place of trauma & ED awareness and sensitivity
How the room environment, communication, class sequencing, and other choices we make as teachers impact our students' experiences.
Boundaries in the yoga teacher-student relationship
$250
October 9, 2:00 – 5:00 p.m.
October 10, 9:30 – 4:30 p.m. (break between 12-1:30)
SAFE YOGA training classes can qualify as Continuing Education for Yoga Alliance Members.
---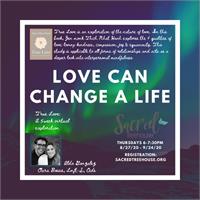 True Love: A Virtual Exploration
True Love is an exploration into the nature of love. In this book, Zen monk Thich Nhat Hanh explores the four qualities of love: lovingkindness, compassion, joy, and equanimity. This study is applicable to all forms of relationships and acts as a deeper look into interpersonal mindfulness. Workshop will include multi-media learning, expressive activities, and short guided meditations appropriate for all levels. Participants do not need to be familiar with the book to participate, although it is encouraged.
5-Week Workshop Price is $375
Registration Closes on 10/9/20
Participants are encouraged to purchase the book:True Love by Thich Nhat Hanh